General Bitchin'
Posts: 4265
Joined: Wed Aug 15, 2018 1:15 pm
Location: Huntly, Scotland
Contact:
One machine is not progressing through the usual cuda31 / cuda60 / cuda70 to the higher paying units. I even started again with an older driver to use the same as the others but - no joy. Tearing my hair out on this (if I had any to tear out)
I think this is fool-proof but could you just try it for me please? • There are 10 types of people in the world; those who understand binary, and those who don't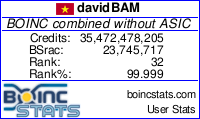 ---
Corsair

Posts: 1373
Joined: Thu Feb 20, 2014 11:24 pm
Location: Leiden, South Holland, Netherlands
Contact:
Not the same that won't run Gerasim? Nope, that was Megacruncher.
Windows or Linux?
---
General Bitchin'
Posts: 4265
Joined: Wed Aug 15, 2018 1:15 pm
Location: Huntly, Scotland
Contact:
this is Linux sorry. On moo

Now have 3 machines which get only cuda31 WU while all the others progress
I think this is fool-proof but could you just try it for me please? • There are 10 types of people in the world; those who understand binary, and those who don't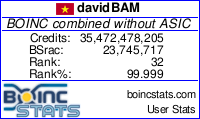 ---
Corsair

Posts: 1373
Joined: Thu Feb 20, 2014 11:24 pm
Location: Leiden, South Holland, Netherlands
Contact:
So Moo! on Linux using CUDA. What nVidia card is it that only gets 1.03 WUs instead of 1.04 WUs?
BTW: 1.05 WUs are OpenCL
---
General Bitchin'
Posts: 4265
Joined: Wed Aug 15, 2018 1:15 pm
Location: Huntly, Scotland
Contact:
These three machines only get v1.03 (cuda31). Doesn't appear to be related to driver version number. All machines with a single GPU do advance past cuda31

These two do advance to v1.05 (opencl_nvidia_101) WU

---
Corsair

Posts: 1373
Joined: Thu Feb 20, 2014 11:24 pm
Location: Leiden, South Holland, Netherlands
Contact:
---
Who is online
Users browsing this forum: No registered users and 1 guest