52Pi -sometimes written as S2Pi- are developing themselves as the Noctua of SBC cooling: High-end air coolers with good performance.
After we had the Ice Tower cooler for the Raspberry Pi that shaves some 30°C off the Pi's operating temperature we got a specialized 4-pin Nvidia Jetson Nano cooler featuring a far bigger cooling block and two heat pipes, that even managed to shave some 40°C off the Nano's operating temperature!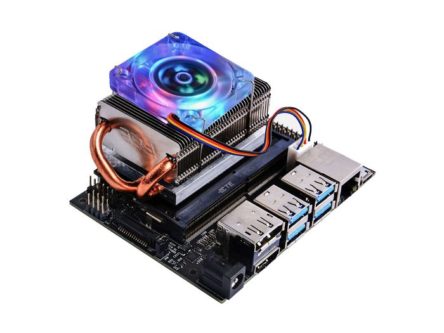 As it uses a 4pin fan, just imagine what a 2cm thick Noctua 40mm 5V fan could do..
Their lastest SBC cooling product is a 2-pin low-profile Pi cooler, looking (at first glance) very much like the Nano cooler, but with a far smaller cooling block and a thinner radiator, that manages to keep the Raspberry Pi's just a tad cooler than the 'big tower' model can -partly due to blowing air down over the board itself too. Gone however is the possibility to add a second fan in push-pull combination.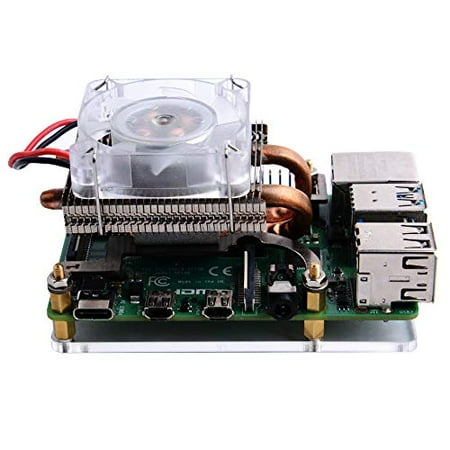 What does this have to do with a quest for power? The most capable 32-bit ARM SOCs are eight-cores that all suffer the same problem: overheating and hence down throttling.
My Odroid-XU4's Samsung Exynos 5422 SOC sometimes runs as slow as 1100/1000 MHz due to down throttling, while it can do 2000MHz/1400Mhz on its Cortex-A15 respectively Cortex-A7 cores. And the same holds, due to less cooling, even more true for the Cortex-A15/A7 equipped Allwinner A80 in my Cubieboard 4's, that is advertised at the same speeds as the Odroid-XU4. It surely holds true for the [standard] totally un-cooled Allwinner A83T Cortex-A7 Octa-Core of the Banana Pi M3, that is supposed to run at 1800 MHz: all three octa-cores will overheat and throttle down. I have yet to hear of an enthusiastic Banana Pi M3 user on that account.
So we need more cooling, and 52Pi is going to supply it. It is just that they themselves do not know it yet. I will try to tie-wrap my way into getting their low-profile ice-tower cooler securely onto my Odroid-XU4 and my Cubieboard 4, as the normal way of fitting them will not work. I'll keep you informed.
P.S. These coolers might do great on your Frankendroids as well.....