General Bitchin'

Posts: 4094
Joined: Wed Aug 15, 2018 1:15 pm
Location: Huntly, Scotland
Contact:
Not letting me join a team
I think this is fool-proof but could you just try it for me please? • There are 10 types of people in the world; those who understand binary, and those who don't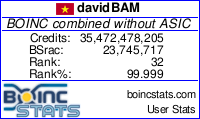 ---
There is no team to join.
I have tried twice and it fails to create. I posted on the project forum a couple of days ago, but still the same this morning.
I had intended posting the project once the team was created.
Not going to look at it until after the bam challenge.
The best form of help from above is a sniper on the rooftop....
---
It is a MT app and will use whatever you give it. There is a app_config posted that will limit the number of threads used per WU. I haven't tried it yet so I can't speak from experience.
---
---
Who is online
Users browsing this forum: No registered users and 1 guest