---
G.L.S.B.

Posts: 4206
Joined: Mon May 29, 2006 11:33 pm
Location: Edinburgh, Scotland
Contact:
---
---
---
First two of the GPUGrid beta work units finished after approximately five hours and seven minutes each returning 6,080 credits each.There might be a flaw in as much as each task uses 100% of a core, be it multithreaded or not. But in both cases taking the same time to complete. So thats 24/5 X 6080 credits per GTX260 (216 core 55nm) per day. Say approx' 28000 credits per card ? Not quite up to the Collatz credit rating yet, but not too far away.
---
New application is now out. To receive only the new WU's you need to go to your gpugrid preferences within your gpugrid account and make sure only the "ACEMD ver 2.0" box is ticked. Both windows & Linux WU's available (6.01 windows & 6.02 Linux). This new WU completes on my GTX260 (216 core, 55nm, XFX factory O/C) in about 5 Hrs 50 mins. The older style WU was typically just under 9 Hours. So should reflect approx' 50% improvement on throughput ( and credits ).
---
General Bitchin'
Posts: 5558
Joined: Wed Aug 15, 2018 1:15 pm
Location: Huntly, Scotland
Contact:
I've stopped getting GPUGRID jobs for nVidia / Linux
Shame because they paid pretty well (miles better than SETI )
Maybe they are out of work for the moment
I think this is fool-proof but could you just try it for me please? • There are 10 types of people in the world; those who understand binary, and those who don't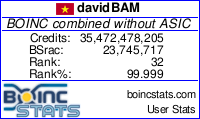 ---
---
There are other GPU projects for you to explore should you wish to dip your toes. I'm about to start crunching Moo Wrapper on my nV cards for Anguillian Pirates for the next few days as we approach the end on the Formula BOINC year long competition. Enigma pays very well, Primegrid has tons of maths apps for GPU's, Einstein or Albert at home, milkyway, amicable numbers etc. Seti pays the worst of all GPU apps, Collatz pays the best.
The best form of help from above is a sniper on the rooftop....
---
General Bitchin'
Posts: 5558
Joined: Wed Aug 15, 2018 1:15 pm
Location: Huntly, Scotland
Contact:
I did try SETI very briefly but cancelled after (a) I saw how badly it paid and (b) I got p
1
ssed off at how many work units they downloaded (in breach of, I
believe
, the time interval I'd specified). And I did truly abort the jobs which I don't like doing - I much prefer to honour everything I've been given to crunch. In truth, I'm not really turned on by the Seti project anyhow
Crunching on Primegrid on nVidia now but am seeing some GPUGRID jobs again now too
---
Who is online
Users browsing this forum: No registered users and 1 guest