General Bitchin'
Posts: 4393
Joined: Wed Aug 15, 2018 1:15 pm
Location: Huntly, Scotland
Contact:
I like the username - maybe you should join my gardening forum
Are you into crunching for Boinc?
I think this is fool-proof but could you just try it for me please? • There are 10 types of people in the world; those who understand binary, and those who don't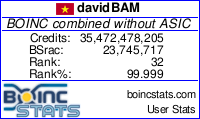 ---
Boinc Recruit
Posts: 2
Joined: Mon Jan 13, 2020 12:35 pm
See my post
here
davidBAM.
I have small gardens at the front and back of my mid-terrace house, mainly managed for conservation interest (I was Dorset Countryside Volunteers co-ordinator for 7 years). The front is screened from the road with a beech hedge and was seeded with a meadow mix in September. The metre wide strip between me and my neighbour is planted with 5 varieties of sedum and 4 varieties of lavender and is teeming with bumble bees, hoverflies, butterflies and moths from early spring to late autumn.
The back is mainly given over to wildlife. It has a hawthorn hedge (I'm planning to lay half of the double line next month), a mature holly tree (the berries are eagerly stripped by fieldfares, redwings, song thrushes and blackbirds), 3 dwarf apple trees, a comfrey bed (another pollinator magnet) which keeps my small vegetable patch productive and a small patch planted with 7 varieties of creeping thyme (hence the user name).
Activity I've spotted at the bird feeders today has been a female greater spotted woodpecker, a female goldcrest, a nuthatch, 2 blackcaps (male and female), 4 reed buntings (3 male, 1 female), 2 pied wagtails, 2 song thrushes, a male blackbird, a wren, a robin, and lots of dunnocks, house sparrows, starlings, long tailed tits, coal tits, blue bits, great tits, chaffinches, chiffchaffs and goldfinches.
"The ultimate test of a moral society is the kind of world that it leaves to its children." - Dietrich Bonhoeffer
---
Who is online
Users browsing this forum: No registered users and 3 guests