General Bitchin'

Posts: 4102
Joined: Wed Aug 15, 2018 1:15 pm
Location: Huntly, Scotland
Contact:
I think this is fool-proof but could you just try it for me please? • There are 10 types of people in the world; those who understand binary, and those who don't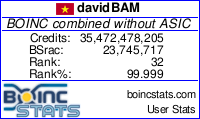 ---
I don't run it on GPU .... I have in the past (Windows) but a "good" GPU is equivalent to about 3-4 threads of a CPU because it takes multiple threads to support it.

I found a thread from 2016 where folks with "pascal" GPUs were seeing immediate WU failures. Those were new cards (like the 1660) and they were saying that the code had not been modified to support them yet. I wonder if that is the same issue you are seeing???

EDIT: looking at the "top computers" I don't see any 1660 or RTX 20xx cards listed.
Last edited by
Bryan
on Tue Jul 09, 2019 9:54 pm, edited 1 time in total.
---
General Bitchin'

Posts: 4102
Joined: Wed Aug 15, 2018 1:15 pm
Location: Huntly, Scotland
Contact:
okay thanks
I think this is fool-proof but could you just try it for me please? • There are 10 types of people in the world; those who understand binary, and those who don't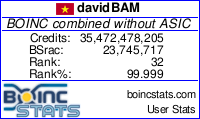 ---
Boinc Major General

Posts: 4369
Joined: Mon Feb 03, 2014 2:38 pm
Location: Goldsboro, (Eastern) North Carolina, USA
---
Who is online
Users browsing this forum: No registered users and 1 guest