Boinc Second Lieutenant

Posts: 586
Joined: Sat Aug 10, 2019 2:28 pm
Location: Scotland, Angus
Thanks for your help lads it was really a breakthrough getting it all to meld together
---
Boinc Major General

Posts: 5116
Joined: Mon Feb 03, 2014 2:38 pm
Location: Goldsboro, (Eastern) North Carolina, USA
SolidAir79

wrote:

↑

Sat Jun 05, 2021 11:42 pm

Thanks for your help lads it was really a breakthrough getting it all to meld together
Knowing how to flash the RTX 3090 bios to get a 1:2 fp64 to fp32 compute ratio sure makes a difference doesn't it?

---
General Bitchin'
Posts: 5558
Joined: Wed Aug 15, 2018 1:15 pm
Location: Huntly, Scotland
Contact:
you are a brave man
@SolidAir79
- being the guinea-pig to re-flash such expensive cards with A100 firmware was awesome. It really could have bricked them
I think this is fool-proof but could you just try it for me please? • There are 10 types of people in the world; those who understand binary, and those who don't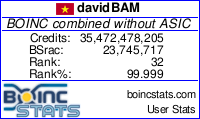 ---
Boinc Second Lieutenant

Posts: 586
Joined: Sat Aug 10, 2019 2:28 pm
Location: Scotland, Angus
The first one took so long to boot after I thought I bricked it for sure
But thankfully the system sprung to life !
---
Who is online
Users browsing this forum: No registered users and 1 guest