San Dan

Posts: 922
Joined: Sat Aug 10, 2019 2:28 pm
Location: Scotland, Angus
Has thanked: 81 times
Been thanked: 46 times
Boinc Second Lieutenant

Posts: 514
Joined: Fri Apr 26, 2019 1:15 pm
Location: Great State of Texas
Has thanked: 104 times
Been thanked: 12 times
Butterfly Whisperer / Milkweeder

Posts: 1360
Joined: Fri Aug 14, 2020 3:39 pm
Location: Florida, USA
Has thanked: 35 times
Been thanked: 28 times
That is a very good price, I think.

Butterfly Whisperer / Milkweeder

Posts: 1360
Joined: Fri Aug 14, 2020 3:39 pm
Location: Florida, USA
Has thanked: 35 times
Been thanked: 28 times
Even lower, I like Newegg, but not Gigabyte, through personal experience.

Boinc Major General

Posts: 5718
Joined: Mon Feb 03, 2014 2:38 pm
Location: Goldsboro, (Eastern) North Carolina, USA
Has thanked: 25 times
Been thanked: 61 times
General Bitchin'

Posts: 6309
Joined: Wed Aug 15, 2018 1:15 pm
Location: Huntly, Scotland
Has thanked: 93 times
Been thanked: 80 times
Contact:
ace
I think this is fool-proof but could you just try it for me please? • There are 10 types of people in the world; those who understand binary, and those who don't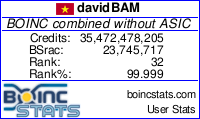 San Dan

Posts: 922
Joined: Sat Aug 10, 2019 2:28 pm
Location: Scotland, Angus
Has thanked: 81 times
Been thanked: 46 times
They are beastly cards but have great cooling i have one the other two are the
https://www.evga.com/products/product.a ... P5-3958-KR
.
Just about as good but a slightly lower OC out of the box and the on board fan is smaller, both state 350w but that is just wrong about 400w on the big boy left to it's own devices ...on Collatz