General Bitchin'
Posts: 4254
Joined: Wed Aug 15, 2018 1:15 pm
Location: Huntly, Scotland
Contact:
server has been down for quite a while - I've got 340 WU trying to upload
I think this is fool-proof but could you just try it for me please? • There are 10 types of people in the world; those who understand binary, and those who don't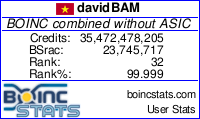 ---
They are doing server maintenance/upgrades for the next 2 weeks. It will be up and down during that period.
---
Two weeks is a long time. I am wondering if they are relocating/upgrade actual server room.

---
Server is down again. And no news what is happening with the project.
---
Who is online
Users browsing this forum: No registered users and 0 guests