General Bitchin'

Posts: 3252
Joined: Wed Aug 15, 2018 1:15 pm
Location: Huntly, Scotland
Contact: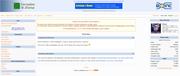 I think this is fool-proof but could you just try it for me please? • There are 10 types of people in the world; those who understand binary, and those who don't
---
How about that. It's funny, last month on my signature my UOTD dropped from 88 to 71. I don't know if everyone took the hit or if it was just me.
---
Well excuse me, now it is down to 68.
---
Who is online
Users browsing this forum: No registered users and 0 guests