General Bitchin'
Posts: 4253
Joined: Wed Aug 15, 2018 1:15 pm
Location: Huntly, Scotland
Contact:
I think this is fool-proof but could you just try it for me please? • There are 10 types of people in the world; those who understand binary, and those who don't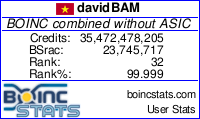 ---
Corsair

Posts: 1372
Joined: Thu Feb 20, 2014 11:24 pm
Location: Leiden, South Holland, Netherlands
Contact:
My advice would be a 4 GB Raspberry Pi 4 with a 64-bit OS, but by the looks of it:
Raspberry Pi running Raspian Linux (arm) 102.10
Raspberry Pi running Raspian Linux (armv6l) 102.10
It wouldn't matter much, the 64-bit OS. The Cortex-A72 does, and the 4 GB might too.
Anybody fancy to try it with a 4 GB Odroid-N2?
According to
WuProp
you'd best use a Samsung Galaxy Tab S for this project while crunching on ARM. It takes on average 14.5 hours to process a WU.
Now we all know that the Samsung Galaxy Tab S has either a 2300 MHz quad-core Samsung Krait 400 SoC, or a big.LITTLE Samsung Exynos octa-core consisting of a 1900 Mhz Quad Cortex-A15 plus a 1300 Mhz Quad Cortex-A7, so that may account for the spread 13.9 - 15.5 hours per WU.
The data of WuProp looks dated -pun intended- though, no new SoCs, and they only seem to show Android running devices.
---
Who is online
Users browsing this forum: No registered users and 0 guests