Boinc Major General

Posts: 4516
Joined: Mon Feb 03, 2014 2:38 pm
Location: Goldsboro, (Eastern) North Carolina, USA
Runtimes range from 2.1 to 2.9 hrs with avg runtime of 2.62 hrs
---
General Bitchin'
Posts: 4523
Joined: Wed Aug 15, 2018 1:15 pm
Location: Huntly, Scotland
Contact:
Hmmm - I think my 2990wx machines might be throttling back due to heat. What is their max running temperature before that happens please?
I think this is fool-proof but could you just try it for me please? • There are 10 types of people in the world; those who understand binary, and those who don't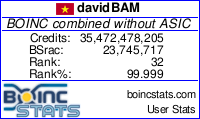 ---
I think it is 65C. I have to down clock mine to stock (3.0) to run PG. @3.3 they throttle ... on air.
---
Who is online
Users browsing this forum: No registered users and 0 guests