Help Stop TB Researchers Welcome New Team Member
By:
The Help Stop TB Team
University of Nottingham
11 Jun 2020
Summary
Meet the newest member of the Help Stop TB research team, who will be helping with the project's data analysis.
Background
The
Help Stop TB
project was created to study the sheath of the bacterium that causes tuberculosis, in order to help scientists look for better treatments.
In 2018, approximately 10 million people contracted tuberculosis, and 1.5 million people died. And in a recent publication, the
World Health Organization
stated, "Between 2020 and 2025 an additional 1.4 million TB deaths could be registered as direct consequence of the COVID-19 pandemic."
Welcome, Marko!
Since our last update, we've had a new addition to the project team!
Marko Hanževački has come to us from beautiful Croatia via Erlangen in Germany, where he recently completed his PhD thesis. He has high-level expertise in molecular dynamics and in enhanced sampling methods, including a range of computational analytical expertise that will come in useful for the next stages of the Help Stop TB project.
He's already got stuck into work here and is shown below helping out on one of our recent outreach events, "Science in the Park," sporting one of our "Sustainable Process Technologies" research group T-shirts.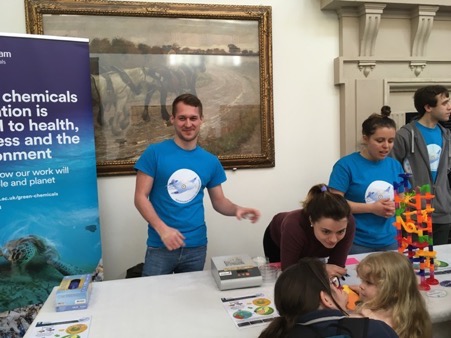 Search for Additional Team Members Continues
We are always actively looking for new team members. Our opportunities include PhD studentships available to talented UK/EU (UK resident) applicants, alongside opportunities via our European-Union-targeted scholarships. In the near future, further details for 2021 scholarships will be available at
https://www.nottingham.ac.uk/pgstudy/fu ... ellence-eu
We are also happy to help support qualified applicants through our fellowships processes. These include applications for the prestigious EU-funded Marie Skłodowska-Curie fellowships, and local
Nottingham Research fellowships or Anne-McLaren fellowships
, alongside those from the learned societies.
If you have the drive and the skills to join us, please get in touch.